Most nutritionists recommend iced coffee (black), black coffee, cafe mistos, and black caffé americanos for those watching their waistlines. Even if they are the healthiest options, those are bitter, boring, and unappealing.
I genuinely think that living a healthy lifestyle necessitates making sacrifices but does not necessitate suffering. With all that in mind, here are fifteen of my favorite low-calorie Starbucks drinks. The calorie counts are for the tall versions only.
1. Nonfat cappuccino: 60 calories
When I'm watching my weight, my go-to beverage is a cappuccino, which combines a rich cup of coffee with thick, frothy foam. To add some flavor, I like to sprinkle a little nutmeg or cinnamon on top.
2. Skinny vanilla latte: 100 calories
The classic latte is made with espresso, rich milk, and a strip of vanilla syrup. However, this lighter version employs nonfat milk and sugar-free syrup to cut calories. When I need a sweet afternoon pick-me-up, this is my go-to.
3. Frappuccino light: 110-130 calories
On a hot day, there's just something about a frappuccino. With their lightened-up line of frapps, including a Coffee, Vanilla Bean, and Caramel Frappuccino Light, creamy, blended, icy goodness can be made healthier.
4. Hot or iced caramel macchiato: 140 calories
This is my recommendation for those who dislike the taste of coffee. Espresso is blended with sugar-free caramel and vanilla syrup before being topped with nonfat milk and a caramel drizzle. If you use skim milk, the hot and iced versions of this creation have 7 grams of protein.
5. Blonde flat white: 100 calories
Blonde espresso is smoother in flavor than regular espresso and is made with nonfat milk. A flat white differs from a latte in that it has a thinner layer of foam on top, making it ideal for those who enjoy the thick, creamy steamed milk that sits just beneath the surface.
6. Skinny chai tea latte: 120 calories
Black tea is imbued with cloves, cinnamon, and other warming spices in this classic. While it is delicately sweetened, a typical tall contains 42 grams of sugar, so this lightened-up version saves you more than 20 grams.
7. Nitro cold brew: 5 calories
This brilliant Starbucks creation reminds me of a cold bottled beer on a hot day. It's served unsweetened without ice and finished with smooth, cold foam dispensed from a tap in-store. If you want, you can add a little bit of sweet cream for 30 to 70 calories.
8. Shaken iced green tea: 0 calories
Those who want to feel like they're on a healthy kick, this summertime favorite blends mint, lemongrass, and lemon verbena. Just make sure to request it without the sugar. Green tea also has health benefits such as antioxidants, improved fat burning, brain function, etc.
9. Very berry hibiscus refresher: 50 calories
If you have ever seen a Starbucks in a raspberry color, it's most likely a refresher. Teavana iced tea combines fruit juice and other ingredients, such as coconut milk, to make a fruity and refreshing sip. Try the Iced Passion Tango Tea for an even lower calorie option (30 calories).
10. Nonfat cafe mocha: 190 calories
10. Nonfat cafe mocha: 190 calories
While a rich, chocolate-flavored coffee doesn't seem to be particularly healthy, true chocolate connoisseurs require their weekly fix. What's the catch? Nonfat milk, no whipped cream, and light mocha sauce are all options.
11. Cold brew with cascara cold foam
Relax with a cold brew! This iced coffee gains depth and flavor from the slow-steeping process. Additionally, each cup is topped with a velvety-smooth foam spotting sweetened with cascara, the skin of a dried coffee cherry.
Why it's good for you: This coffee drink is an excellent warm-weather substitute for cappuccino lovers, and it only has 80 calories for a grande size. Discover how to make it at home.
12. Iced coffee with syrup: 60 calories
On a hot summer day, freshly brewed and chilled coffee is ideal. We recommend using sugar syrup, which blends easily into the cool liquid. Sugar substitutes or regular granulated sugar will not dissolve as easily.
Why it's good for you: The smallest size has 60 calories and 15 grams of sugar, while the largest has 80.
13 brewed coffee or a cup of americano
Which Starbucks drink has the fewest calories on the menu? Of course, plain coffee is the best, with the Cafe Americano a close second. More of Starbucks' healthiest menu items can be found here.
Why it's good for you: Coffee or Americanos, at only 5 and 10 calories, respectively, provide that energizing jolt without the added sugar or fat. Brewed coffee is also available as one of the keto Starbucks drinks.
14. Cold brew with honey almond milk
50 calories
10g sugar
0.5g total fat
With a nauseating honey sweetness, it's difficult to believe this grande-sized drink only has 50 calories. You can significantly reduce the sugar by cutting down the amount of honey flavoring your barista will use to make one of our favorites.
15. Red eye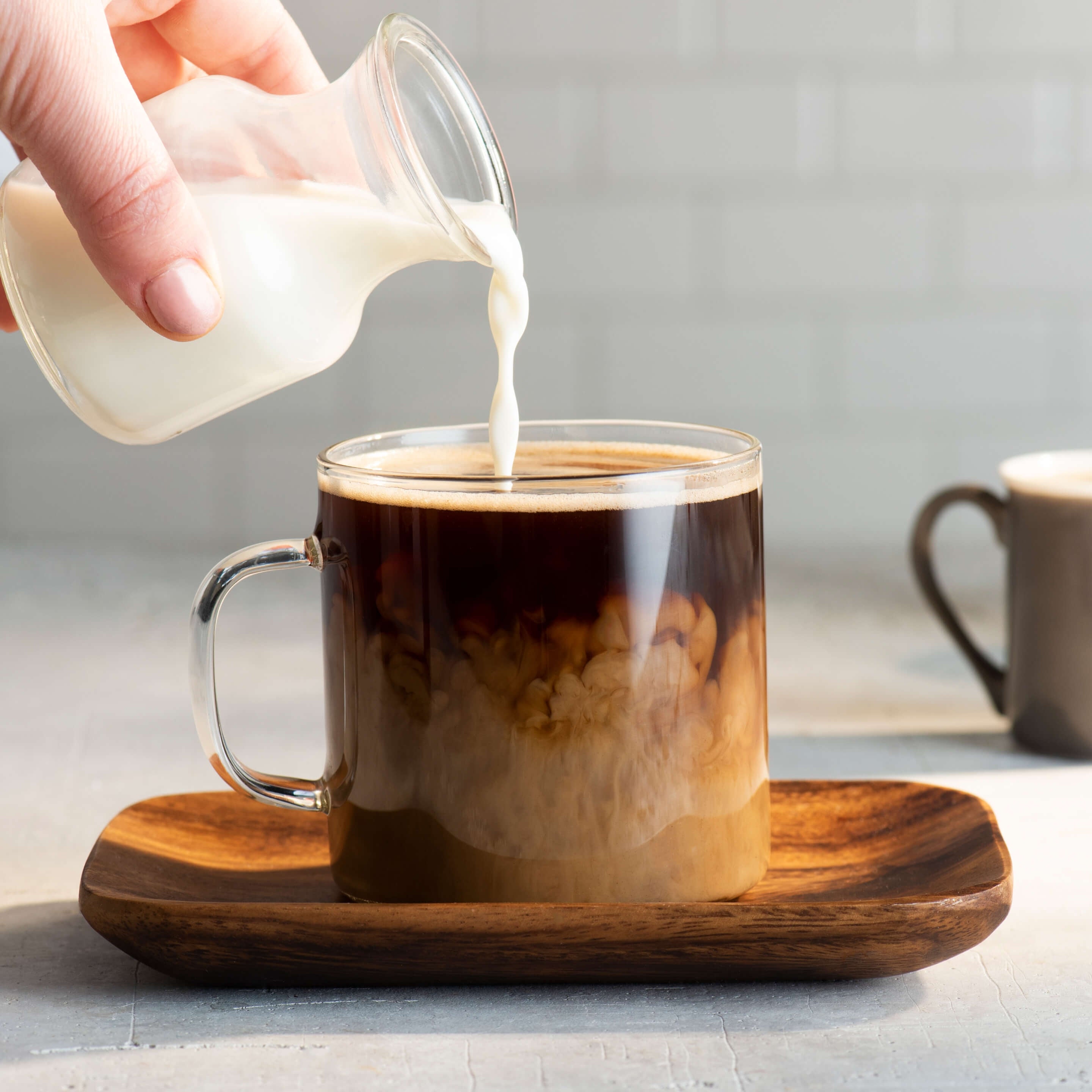 It's not on the menu, but this extra shot of espresso in your coffee will offer you an extra jolt without increasing the size of your drink.
6 tips to make a healthier starbucks drink
1. Skip the sweeteners
Instead of white sugar or syrup, try a pack of stevia or a sprinkle of cinnamon, which are both always available at the milk station.
2. Experiment with a different milk
Unless otherwise specified, Starbucks always uses whole milk, but stores also sell 2 percent milk, coconut milk, soy milk, nonfat milk, and almond milk. You can save 80 calories by substituting almond milk for full-fat milk in a tall latte, and almond milk is also the best low-carb, low-calorie, and low-fat milk on the menu.
3. Create your syrup pumps
Starbucks sells eight syrups all year, including popular flavors like caramel and cinnamon dolce. A regular grande has four pumps, and one pump contains about 20 calories. Try adjusting the number of pumps or requesting a sugar-free syrup.
4. Withhold the whipped cream
A standard serving of whipped cream for a tall adds 82 calories and 8 grams of fat. If you can't bear the thought of going without whipped cream, request a lite whip from the barista.
5. Order a tall
If you want a classic Starbucks drink with no low-calorie substitutes, order a tall and sip it slowly. You can still savor it as a treat while forgoing the calories in the venti and grande versions.
6. Check the starbucks menu for calorie information
All Starbucks locations in the United States are now mandated to include nutritional information for their standard drinks on their in-store menus. In the Starbucks app, you can also view nutritional information for your favorite coffee drinks.
Bonus tip: bring a reusable cup
This piece of advice is more for your wallet's health than your waistline, but it always amazes me how few people are aware of it: If you bring a personal coffee cup, you can save $.10. They charge you for the smallest cup size available and no larger. That may not seem like much, but if you get a Starbucks 5 times a week for a year, that's more than $25! Here's our article on the best reusable coffee cups you can buy..
How do you order a healthy cup of coffee from Starbucks?
Here's five simple guidelines for ordering healthy Starbucks beverages.
Choose unsweetened options. "Drinks often do not list how sweetened they are, so ask!" says Modell.
Ask for less sweetener. "If you want more sweetness, ask for just one pump of syrup when making your drink," Modell advises.
Replace the added sugars with cinnamon. "You not only save sugar, but you also get a surge of nutrients and added health benefits from the cinnamon," says Modell.
Opt for lower-fat milk options. "Experiment with skim, 1%, 2%, or almond milk," suggests Modell.
Avoid the Grande. "Choose the smaller cup size (Tall), which would save you money and calories!" recommends Modell.
Stick to a calorie intake of 60-100. Consider it a haven that will not derail your diet. If the calories aren't listed on the menu at your local 'Bucks,' go for the tall and grande sizes (sorry, venti). And you can only have one refill at a time.
Return to the fundamentals. Coffee, tea, espresso, and cappuccino are all excellent healthy beverages. If you are watching your calorie and sugar intake, use healthy seasonings like cinnamon or nutmeg to give it a kick.
Disclaimer: This post contains affiliate links, which means I may receive a small commission, at no extra cost to you, if you make a purchase using these links. Remember to support us by purchasing through the Amazon/Walmart/Impact Radius links provided. Last update on 2023-11-29 / Affiliate links / Images from Amazon Product Advertising API
Disclosure: No compensation or free products were received in exchange for writing this review.
Editorial Staff
The editorial staff at Crazy Coffee Crave is a team of coffee enthusiasts & Baristas who enjoy the one thing we all think about as soon as we get up in the morning. Trusted by thousands of readers worldwide.